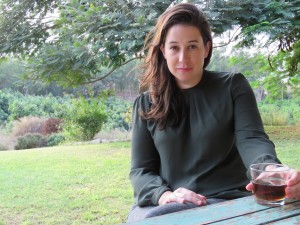 I am a travel journalist currently based in Uruguay. I'm a former New York Times columnist and frequent contributor. I also write for Travel + Leisure, Bon Appétit, Condé Nast Traveler, The Wall Street Journal Magazine, and T Magazine, to name just a few of many.
My favorite places to write about include Uruguay, Colombia, Argentina, Korea, Sri Lanka, Ireland, and Vietnam, along with my hometown, Philadelphia, but I report from all over the world. To get in touch about articles from me, email nell.m.wulfhart@gmail.com.
My original audiobook, OFF MENU, is all about the hidden science of eating and drinking, and all the weird and wonderful ways you can make food taste better by changing your plates, music, and lightbulbs. You can check it out here. My narrative nonfiction book, the story of how stewardesses in the 1960s and 1970s used the power of the feminist and labor movements to remake the most sexist workplace in America, will be published by Doubleday in 2022. For book queries, please contact my agent, Lauren Sharp, at Aevitas Creative Management.