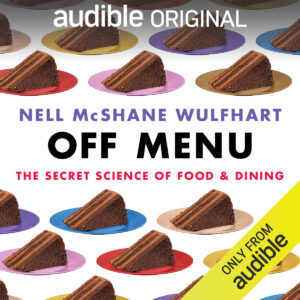 I'm the author of OFF MENU: THE SECRET SCIENCE OF FOOD AND DINING, an Audible Original. It's all about the hidden science of eating and drinking, and all the weird and wonderful ways you can make food taste better by changing your plates, music, lightbulbs, and more. It'll teach you to make better cocktails, eat more vegetables, and increase your enjoyment of every bite you take—without changing a single ingredient. You can check it out here. If you already have an Audible subscription, you can download it for free! Check out the video preview below:
---
My narrative nonfiction book, the story of how stewardesses in the 1960s and 1970s used the power of the feminist and labor movements to remake the most sexist workplace in America, will be published by Doubleday on 19 April 2022. Order THE GREAT STEWARDESS REBELLION wherever you buy your books!
For book queries, please contact my agent, Lauren Sharp, at Aevitas Creative Management.