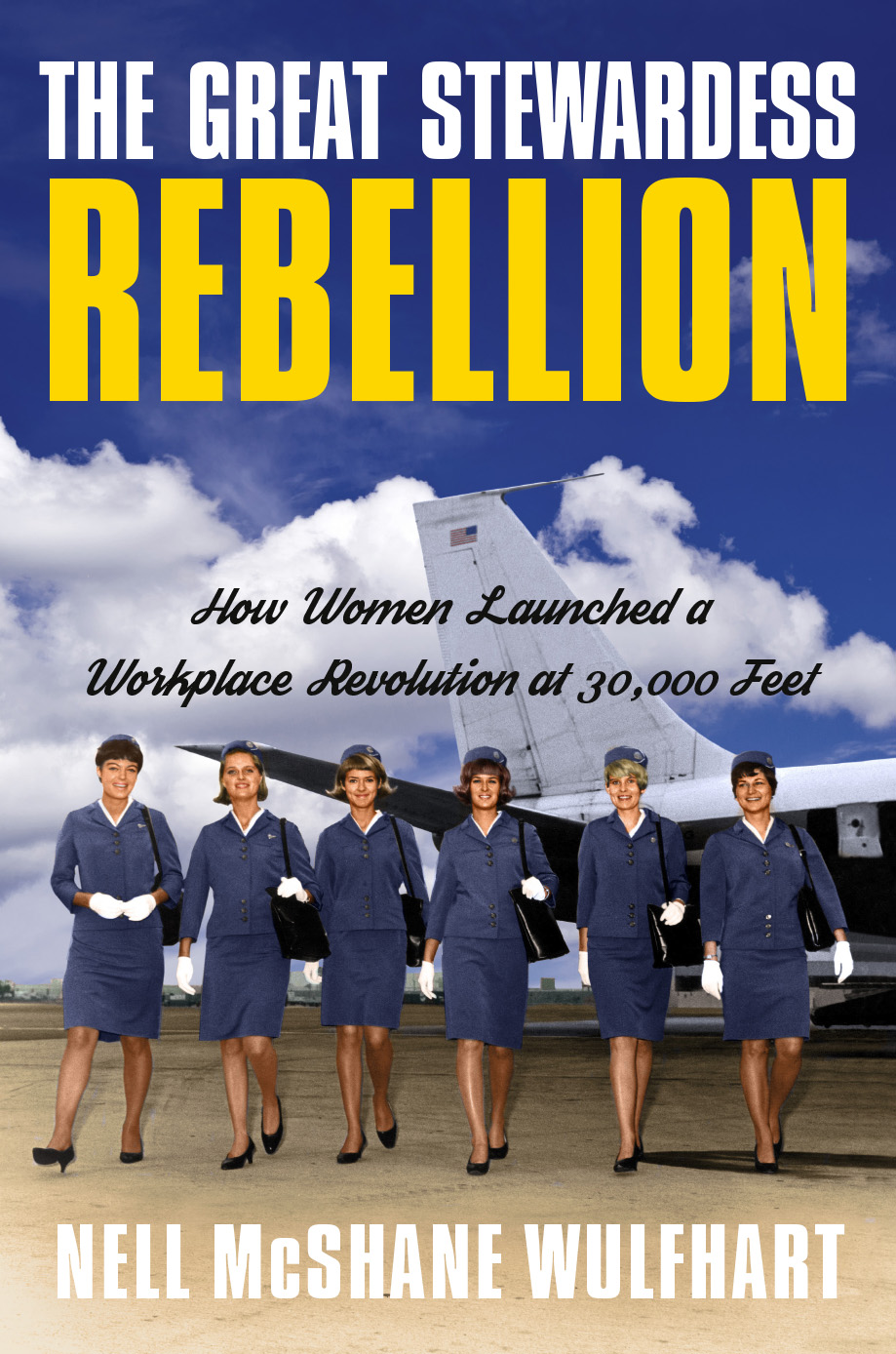 My nonfiction book, the story of how stewardesses in the 1960s and 1970s used the power of the feminist and labor movements to remake the most sexist workplace in America, is now available wherever you buy books!
NEWS:
The Washington Post named THE GREAT STEWARDESS REBELLION on its list of 2022's 50 best nonfiction books!
THE GREAT STEWARDESS REBELLION was just longlisted for the PEN America John Kenneth Galbraith Award for Nonfiction!
Is your book club reading THE GREAT STEWARDESS REBELLION? I'd be happy to Zoom in! Send me an email at nell.m.wulfhart@gmail.com and we'll set it up!
Order THE GREAT STEWARDESS REBELLION at:

HERE'S SOME PRAISE!
"A meticulously detailed history. . . Rollicking. . . Shocking, infuriating and excruciating. . . [Wulfhart's] account credits [the stewardesses] as having played a pioneering role in fighting sex discrimination, and she tells the story well. . . It is dramatic, invigorating and instructive as a textbook example of the courage, ingenuity and persistence it takes to effect such progress."
—The New York Times Book Review
"Wulfhart brings a treasure trove of vintage ads and relatable anecdotes to The Great Stewardess Rebellion. . . Wulfhart, through her prodigious research, secures a place for the women who endured all manner of indignities to forge a better future for those who put their lives on the line every day in a job once regarded as frivolous."
–The Washington Post
"Wulfhart's exhilarating account describes how a number of stewardesses, galvanized by the women's movement, took on the airlines and won. . . Wulfhart is a vivid storyteller who writes with energy and style, and the experiences of Patt and Tommie, passionately pushing both the airline and the union to catch up with the changing times, lend her account poignancy."
–The Wall Street Journal
"An astonishing exposé of [flight attendants'] long struggle for respect and equality. . . This largely under-chronicled aspect of recent women's history is a valuable reminder of how far women have come. . . [A] relevant and urgent read."
–The Guardian
"I've spent so much of my life on the road that stewardesses have always been my friends in the sky. Now I am glad to see The Great Stewardess Rebellion … the true story of women who stood up to huge corporations and won, creating momentous change for all working women."
–Gloria Steinem
"McShane Wulfhart's engaging chronicle of the labor movement launched by U.S. airline stewardesses who flew the not-so-friendly skies in the 1960s and '70s has an eye-opening anecdote on every page; even the union negotiations are entertaining and informative. . . [The Great Stewardess Rebellion] demonstrates how the stewardesses' labor fight affected the state of modern American employment and helped enshrine many of the workplace rights women have today.Recommended for readers of women's history and histories of the airline industry, and anyone looking for an engaging and entertaining read."
—Library Journal, (starred review)
"Engaging . . . Insightful . . . Compelling . . . Wulfhart explains union wranglings, emerging legislation, and lengthy court battles within context, exposing the era's expectations regarding women's roles as sex objects, wives, and mothers in stark reality. This is an eye-opening chapter in the history of feminism and women's rights."
–Booklist
"A rousing history. . . Wulfhart lucidly contextualizes the stewardesses' campaign within the larger feminist movement, and shares striking anecdotes of the insults they endured and the dedication it took to reform 'the most sexist workplace in America.' The result is an invigorating and inspiring story of women triumphing over discrimination."
–Publishers Weekly
"Offer[s] insight into the sexism women faced in the early decades of commercial flight, as seen through the eyes of the women who lived it. . . With stylish flair, The Great Stewardess Rebellion explores the nuances of these spirited women and the sexism they battled."
–BookPage
"Interweaves [personal stories] with a larger narrative of how female flight attendants struggled to build long-term careers built on benefits and good wages rather than the promise of glamour and adventure. . . This engaging narrative offers a fascinating look at how the intersection of the women's and labor movements helped a little-discussed, female-dominated profession achieve viability and respect. An informatively readable combination of cultural and feminist history."
–Kirkus
"The Great Stewardess Rebellion has it all: '60s glam, sharp and brave heroines, and one of the most dramatic and consequential feminist battles in American history. A grippingly told and unforgettable story."
–Abbott Kahler, author of The Ghosts of Eden Park
"Vivid, inspiring and full of twists, The Great Stewardess Rebellion reveals how a pair of young women helped build a mighty union and transformed an industry forever. Wulfhart has unearthed a story of rare power, and she tells it with passion and skill."
–Jason Fagone, author of The Woman Who Smashed Codes
" Wulfhart's lively labor history chronicles a recent past that can feel simultaneously a million miles away and all too contemporary."
–Rebecca Traister, author of Good and Mad
" Nell McShane Wulfhart reconstructs the long-lost Era of the Stewardess: what she meant to the airlines, how she defined the female ideal in America, and then how she broke the mold—and helped change the world for everyone on the ground."
–Keith O'Brien, author of Fly Girls
"The Great Stewardess Rebellion should be required reading for anyone entering the modern job market–to remind them how the workplace used to be, and to honor the heroic people who stepped up and made progress possible.  A fascinating, important read."
–Lisa Napoli, author of Susan, Linda, Nina & Cokie
"Put aside any preconceived notions you might have about flight attendants. Wulfhart's uniformed women battled the airlines' sexist policies and lurid advertising, forging a feminist revolution along the way."
–Paulina Bren, author of The Barbizon
"An entertaining page turner and a powerful story of personal and political transformation."
–Lynn Povich, author of The Good Girls Revolt
"A riveting, tour de force story of women's fight for justice on the job. Wulfhart tells an incredible story of workplace justice and the women who made it."
–Erik Loomis, author of A History of America in Ten Strikes
"Nell McShane Wulfhart brings us face to face with the atrocious status quo that stewardesses fought to overturn. Wulfhart chronicles  the movement's expansion in sparkling detail and delivers uncommon insight into the personal dynamics of social movements. Read this book!"
–Priscilla Murolo, co-author of From the Folks Who Brought You the Weekend
"I'm so grateful for Nell McShane Wulfhart's work on this. She's told an extraordinary herstory–I was in tears. The Great Stewardess Rebellion tells the powerful history of Flight Attendants at American Airlines refusing to allow men to define them. Instead, Flight Attendants set the agenda, helping to turn a job into a career and a union of mostly women into a powerful force that broke through discrimination and sexism to define their worth themselves. This book sets the scene for the possibility of Flight Attendants uniting to lead all working people – no matter who you love or where you come from, every gender, race, culture, and creed – to redefine the value of work and the centrality of unions in a thriving democracy."
–Sara Nelson, International President, Association of Flight Attendants-CWA, AFL-CIO
---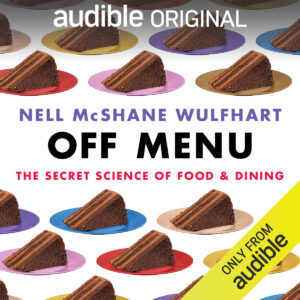 I'm the author of OFF MENU: THE SECRET SCIENCE OF FOOD AND DINING, an Audible Original. It's all about the hidden science of eating and drinking, and all the weird and wonderful ways you can make food taste better by changing your plates, music, lightbulbs, and more. It'll teach you to make better cocktails, eat more vegetables, and increase your enjoyment of every bite you take—without changing a single ingredient. You can check it out here. If you already have an Audible subscription, you can download it for free! Check out the video preview below:
---
For book queries, please contact my agent, Lauren Sharp, at Aevitas Creative Management.